September 21, 2012
Interbike 2012 Coverage
The first news for Profile for Interbike 2012 is that we can say with a moderate to high degree of certainty that the fabled Elite Cranks will be released during the month of October 2012. Probably. We've been working ferociously to get enough of them made that we don't sell out of them overnight. They will be available in black arms in 175 or 180, with black, blue, red, gold, and silver bottom bracket cups, 4 arm 104BCD spider, and crank bolts.
The second news is a new 22mm Freestyle Crank. The very first prototype is in Las Vegas right now, expect a few sets to go out to test riders in the coming weeks, and availability in 2013.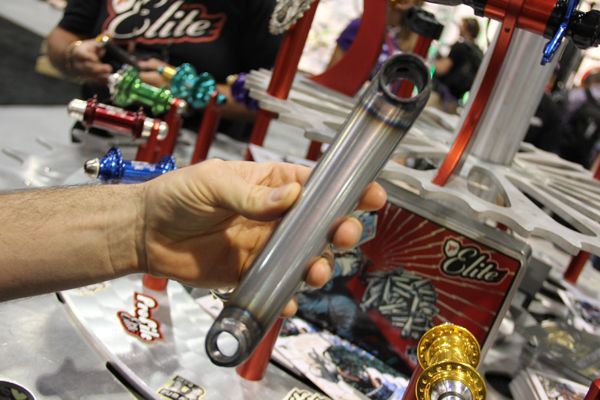 Pic by Kurt Hohberger, BMX Union.
The third bit of news is our new 17mm Hex Head 3/8 (10mm) axle bolts. These are also in the prototype/testing stage, expect availability close to the end of 2012/early 2013. There will be versions in CrMo as well as Ti.
The fourth bit of news is the flat black Jeff Klugiewicz colorway, available in the next few weeks.
Here's some videos, from Vital as well as Dig.

Profile @ Interbike 2012 – More BMX Videos
Enjoy.